Paper Playtime is changing their challenge schedule to the FIRST and THIRD Monday starting in October. The FIRST Monday's challenges will be CRICUT CREATIONS with various themes through the year. The THIRD Monday's challenges will be SAY IT WITH SENTIMENTS with various themes using any form of creating you'd like.
Where are our
DIGI MONDAYS
going?
Well, I'm glad you asked!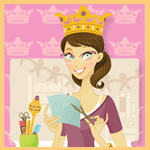 Paper Playtime's DIGI MONDAY has MOVED to a NEW Location!
are new name for the challenge is to be...
You will still be able to find The Queen's Royal Digi Challenges on the LAST Monday of every month! Yeah! Mark your calendars to play along!
And now.... on to Paper Playtime current Challenge....
The Queen just love how this
treat holder came out ... it was a showcased
project on one of my favorite site
came from $1 bin stamps from
Test Tube is really the Wilton Cupcake
Halloween candy at Micheal's
Paper was open card stock and The Queen
inked around the edges using
Distress Ink Vintage Photo
the being part of Paper Playtime
so make sure you go and check out
all the awesome designers...