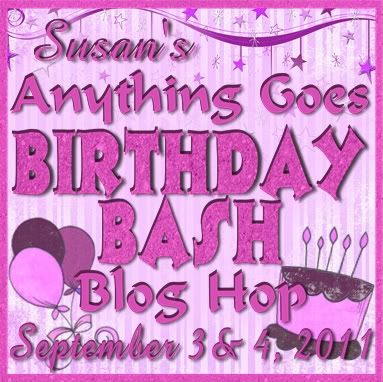 Today is Susan's Birthday Bash
and The Queen is so excited to
be in this hop... chance to meet new
fellow bloggers and hop along with new designers.
right path... now on to The Queen's project
This cute card is one of my favorites
to create it called and easel card and
has a wonderful Resource tab for all cards and
The birthday card is on a Action Wobble
and queen was cut using my cricut.
Queen used a Peachy Keen Stamp for the
cake faces just love how cute they make
Now what better than Queen to hold
Now there some awesome sponsors
here that you just need to follow
Grand Prizes with Sponsors:
1. Karber Digital Images (http://www.karberdigital.com/) will offer blog candy
to a random commenter of the blog hop :)
2. Jen's Digi Designs - $15 gift card for liking her Face Book page and
commenting on Susan's page with a winner being chosen randomly :)
as there will be a $20 gift card to Designs on Cloud 9 to one commenter on her blog.
Here is the line up...
1. Susan: http://susanascorner.blogspot.com/
2. Amy: http://www.lovetocrop.com/
3. Darlene: http://twoscrappinlawyers.blogspot.com/
4. Heather: http://blessed2cre8.blogspot.com/
5. Indira: http://craftyhomemade.blogspot.com/
6. Janet: http://ladyluvbug.blogspot.com/
7. Jearise: http://lorbysworld.blogspot.com/
8. Laura: http://www.lauraleesdream.blogspot.com/
9. Linda: http://www.lindascreativity.blogspot.com/
10. Lori: http://www.scrappinmystressaway.blogspot.com/
11. Maria: http://justgetscraphappy.blogspot.com/
12. Nicole: http://crashingcreatively.blogspot.com/