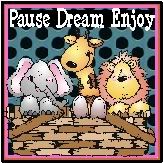 So today is Paper Playtime Queen's
Monday Challenge # 55 make an Easel Card
The Queen just love easel card and how easy
they are with a Spellbinder Nestabiblites
The Queen finally found a "C" plate .. which is a much
needed item to make all these wonderful die's work...
So on to The Queen's Card..
The Queen used a square round Spellbinders
This link below is where The Queen figured out
how to cut using her Spellbinders
Here
(they use another die but same concept)
The Queen used a sweet digi from
Some Odd Girl and colored it with
PrismaColor Pencils...You can purchase
The Queen used "
Birthday Birthday"
Paper is from the LIME Twist
from Minds Eyes... got mind
Here is the card it the easel up position
doesn't it look amazing all tied together..
We'd love you to post pictures of your latest creations
on our
FACEBOOK PAGE!
Don't forget to
leave a link to your blog too. :)
Be sure to watch her video below to see her Easel Card
and instructions on how to make one yourself.
Our sponsor this week is
K Andrew Designs
with