Happy Saturday! Hope you got some great plans
for this 3 day weekend. The Queen has a birthday party
to attend and created this adorable card using
Hope she love it...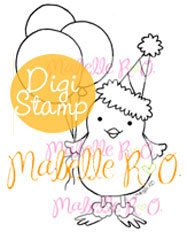 Now The Queen created this adorable card
using her Royal Copic Markers !
How happy will the Birthday Girl be to get this
bright and cheery birthday card !
The Birthday Chickie holding a bunch of Birthday Balloons is
sure to be a hit with its plaid background and
adorable tulle pink bow!
The Queen used a Taylored Expression Die called
Clip it on for the tab and a SRM sticker for the hb sentiment.
You can get both at
How sweet and easy is that!
Make sure you follow the Whimsy and Star Studio Blog
so you can get updated inspirational emails!
Royal Hugs